David Martin
Dave grew up in a musical family and began playing alto saxophone at age seven. "Music was always around, my mom was a pianist and singer and she often played and sang songs and hymns on our piano". Dave always loved singing as well and joined the high school choir in his freshman year. "I honestly didn't know if I was any good or not, but they kept giving me solo's!"
Dave Martin has enjoyed a long career as a Singer, Saxophonist, Vocal Coach, Radio broadcaster, and Voice-over artist. He is a graduate of University of Central Florida with B.A. in music performance. He has toured with his own "Blues Brothers" show band which included performances for The Chicago Bears at Soldier Field. He has shared the stage with many great artists including The Spinners, Three Dog Night, Kool and the Gang, and Bo Diddley. Dave's numerous performance opportunities have included working for Disney, as well as Universal Studios. He also worked in television with TBN ministries, and as a broadcaster for nine years with N.P.R and news radio.
Dave became lead vocalist of Popular Tampa based wedding and event band "Southtown Fever" in 1998 and worked with them for several years. Dave relocated to Orlando in 2008 and joined the popular South Florida group "Fifth Avenue". Dave was instrumental in the creation of the Headliners band in 2009, and worked with that group for many years.
While working at Orlandos various theme parks, Dave had the opportunity to meet and work with Orlandos finest musicians and performers. "The performers working at the theme parks are a very small select group chosen out of hundreds of people who audition, what better place to lay the ground work for a top band!"
The groups members had already been working together on shows and other projects, but they hadn't yet organized as an actual band. "We had already worked together in everything from the Jimmy Fallon show, to Universal's Mel's Diner, to the Blues Brothers act, to A Merry Grinchmas!"
"I'm very fortunate to have such a dream team! "We have an energy that raises the roof and that is what we do each time we play together!
"Raucous Vocalist" – Washington Post
"Vocals superbly performed" – Lake Mary life Magazine
"Energetic young voice for Jazz" –Orlando Arts magazine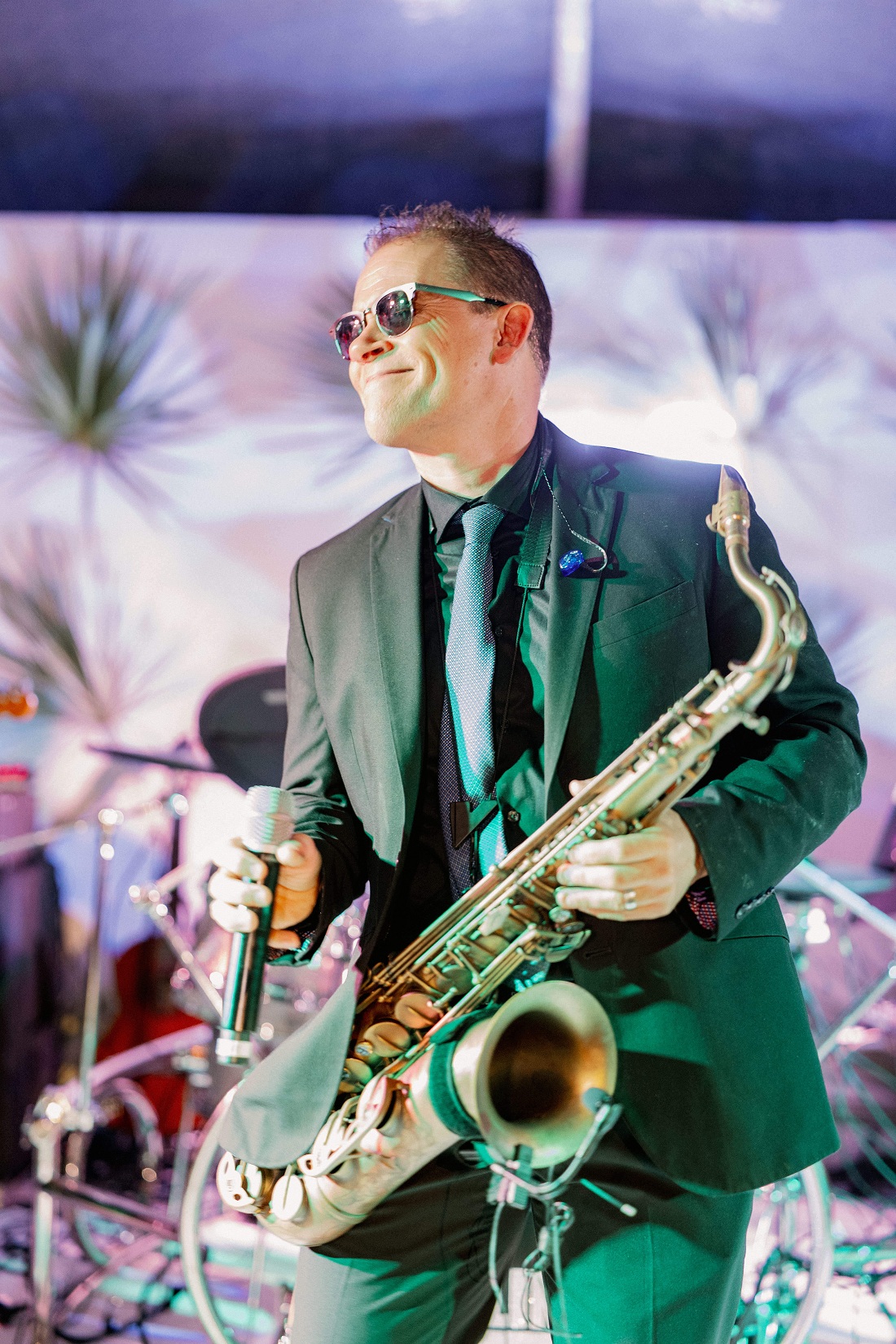 David Martin and Finesse Band made our wedding reception for our daughter the most memorable expereince it could possibly be. From their talented music to the wedding party introductions, they get five stars from me.
by Robert Bohannan
"We had Finesse perform at my daughter's wedding. As the father, I did a lot of work selecting and working with the band. They were absolutely fabulous. Nobody wanted to leave the dance floor. They brought tremendous energy to our reception in addition to a great music performance. Very charismatic performers. They also arranged to have a trio play during our cocktail hour and that was great too. And very organized to - whether it was contracting, working with them selecting the music, or questions they were very prompt to reply to emails and the phone. You can't go wrong with this band. True professionals."
By Phil Elbert
"We had the Finesse Party Band perform for our daughter's wedding. The dance floor was going all night! They were wonderful. They were flexible to accommodate our desired playlist, learned new songs for us, and were just sooooo much fun. Recommend highly!"
By Kris Elbert
LET'S MAKE YOUR EVENT AMAZING!
Address
Available throughout Florida
Email
Info@thefinessepartyband.com